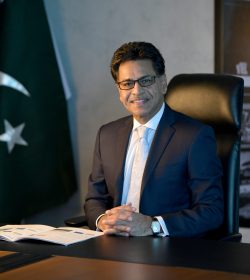 Mr. Waqar Ahmed Malik is the Managing Director and Chief Executive Officer of Fauji Foundation
Limited. He serves as the Board Chairman for Fauji Foundation and its subsidiaries as well as FonGrow
Private Limited, Askari Bank, Askari Cement, Pakistan Oxygen Limited, Pakistan Maroc Phospore SA, and
Foundation Power Company Daharki Limited among others.
With experience spanning over 30 years, Mr. Malik has worked for various Fortune 500 companies
across three continents. He is a specialist in Board Governance, Strategy, and Corporate and Business
Leadership. He has led and managed organizations in the petrochemical, consumer, manufacturing, and
life sciences industries and also has experience with Merger and Acquisitions. His work in Europe has included ICI Pic Group in the UK and Akzo Noble in the Netherlands. In Pakistan he served as the Chief of Lotte Pakistan Limited for 10 years.
In addition to his professional responsibilities, he has served as chairman of Sui Southern Gas Company
Limited and Noesis (Private) Limited, a member of the boards of the Karachi Port Trust, OGDCL, and the
Central Bank of Pakistan, as well as a director of IGI Insurance Limited, ENGRO Corp, Engro Polymer
Chemicals Limited, and TPL Direct Insurance.
He continues to serve as the president of MAP, the director of the Pakistan Business Council, the trustee
of LUMS, the Duke of Edinburgh Trust, the Indus Valley School of Art, and 1-care Pakistan.