Managing Director & CEO, Fauji Foundation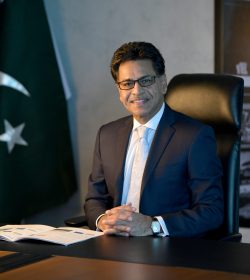 Being the head of Fauji Foundation, I am delighted to be a part of the first organization in Pakistan to focus on Corporate Agriculture Farming. We aim to place Pakistan as an emerging Agricultural economy based on modern technologies and expertise.
Fauji Foundation has significantly invested in the national food industry and exists in multiple sub-industries such as cereals, dairy, and frozen vegetables. Fauji Cereals is the oldest food company while Fauji Fresh-n-Freeze and Fauji Foods are slowly gaining market share and momentum as well. Apart from the food industry, FF is Pakistan's largest fertilizer manufacturer and contributes massively to the food security of the country.
Fauji Foundation has already invested significantly and exists in the national food scene in the cereals (Fauji Cereals being the oldest food company) dairy (Nurpur), Fauji Foods (Pasta), and frozen vegetables and fruits (Fresh-n-Freeze). Fauji Foundation is also the largest fertilizer manufacturer in Pakistan and contributing massively to the food security of Pakistan.
Farming and agri-business has been started as strategic initiative to provide alternate business platform to Fauji Foundation while significantly contributing to meet the food security of Pakistan. The project that FF has launched is aimed to leverage on the world best technologies and set-up modern agriculture farms over large areas on corporate model for breaking the low productivity, thereby trigger agri-revolution in Pakistan.
I am sure FonGrow will make sterling endeavours to achieve the vision set by our principals and Fauji Foundation will support it all the way.